Overview
Being just a normal student without a special talent, Makoto Naegi wins a lottery to attend the prestigious Hope's Peak Academy where only the top prodigies attend. However, instead of this being the beginning of a wonderful high school life, it's a ticket to despair, because the only way to graduate from Hope's Peak Academy is to kill one of your fellow students or be one of their victims.
Last Season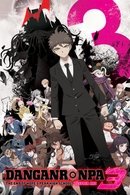 2016 | 25 Episodes
The series serves as a conclusion to the storyline of Hope's Peak Academy, the elite school where the Super High School Level Despair, Junko Enoshima, played hostess to a "killing school life" among its students under the guise of the evil bear Monokuma. The story is split up into two chapters: Future Chapter and Despair Chapter.
Facts
Original Name ダンガンロンパ 希望の学園と絶望の高校生 The Animation
Status Ended
Networks
Certification
Meaning

No-one under 15 is allowed to see a 15 film at the cinema or buy/rent a 15 rated video. 15 rated works are not suitable for children under 15 years of age.
Type Scripted
Original Language Japanese
Runtime 24m
Content Score
Almost there...