Overview
OMG! There's this girl at school, Yamada, who wants to make like a hundred sex friends. She totally thinks she can devirginize one hundred different boys! Can you believe that? That's like every boy in the school. Who does she think she is? I heard from my friend's neighbor's cousin's lab partner that Yamada's never even been kissed. Oh. My. God. I would totally die. That's like burn all your makeup and shave off your eyebrows embarrassing. I can't even think about it. Today at lunch I saw Yamada flirting, like for reals flirting, with that geek Kosuda. You know the guy. Photography club, no muscles, boring face, kind of reminds you of a black-and-white movie. Super lame. If Yamada can't even make the sex with him, she'll never score a hundred cherry boys. She needs to take like Sex Ed or something because I heard she can't give it away!
Featured Crew
Creator
Last Season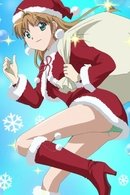 2010 | 12 Episodes
Season 1 of Yamada's First Time: B Gata H Kei premiered on April 2, 2010.
Facts
Original Name B型H系
Status Ended
Network
Certification
Meaning

This program is specifically designed to be viewed by adults and therefore may be unsuitable for children under 17
Type Scripted
Original Language Japanese
Runtime 25m
Content Score
Yes! Looking good!