Overview
Beginning its tale in 19th century England, young aristocrat Jonathan Joestar finds himself locked in bitter rivalry with Dio Brando, a low-born boy who Jonathan's father took under his wing after the death of Dio's father. Discontent with his station in life, Dio's fathomless drive to reign over all eventually leads him to seek the supernatural powers of an ancient Aztec stone mask in the Joestars' possession – an artifact that will forever change the destiny of Dio and Jonathan for generations to come. Fifty years later, in 1938 New York City, Jonathan's grandson Joseph Joestar must take up his grandfather's mission and master the abilities necessary to destroy the stone mask and its immensely powerful creators, the Pillar men, who threaten humanity's very existence.
Featured Crew
Creator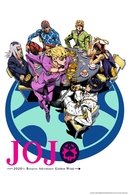 2018 | 39 Episodes
Naples, 2001. Giorno Giovanna is a small-time crook with one big dream—to become a "Gang-Star." No ordinary thief, Giorno has a connection to the remarkable Joestar bloodline, and possesses a Stand named Gold Experience. His dream starts to become reality when he meets Bruno Buccellati, a mobster from the gang Passione and a fellow Stand user himself. Realizing that they share similar ideals, and both disagree with the gang's harmful affairs, Giorno reveals his goal to Bruno: with Bruno's help, he will reform Passione by overthrowing the boss. As Giorno becomes a member of Passione, and is inducted into Bruno's squad, he discovers that it is no simple gang; its numbers are teeming with Stand users. Now confronted by other squads of differing loyalties and unpredictable caliber, their goal to change the gang from the inside out will be a tough one. Taking on these adversaries, Giorno attempts to rise through the ranks and inch closer to the boss, a man who is shrouded in mystery.
Facts
Original Name ジョジョの奇妙な冒険
Status Returning Series
Network
Certification
Meaning

This program is specifically designed to be viewed by adults and therefore may be unsuitable for children under 17
Type Scripted
Original Language Japanese
Runtime 24m
Content Score
Yes! Looking good!