Overview
Media
Fandom
Share
Overview
In the near future, a Virtual Reality Massive Multiplayer Online Role-Playing Game (VRMMORPG) called Sword Art Online has been released where players control their avatars with their bodies using a piece of technology called Nerve Gear. One day, players discover they cannot log out, as the game creator is holding them captive unless they reach the 100th floor of the game's tower and defeat the final boss. However, if they die in the game, they die in real life. Their struggle for survival starts now...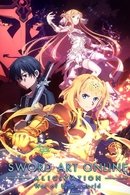 2019 | 17 Episodes
Despite the defeat of Quinella—the pontifex of the Axiom Church—things have not seemed to calm down yet. Upon contacting the real world, Kazuto "Kirito" Kirigaya finds out that the Ocean Turtle—a mega-float controlled by Rath—was raided. Due to a sudden short-circuit caused by the raiders, Kirito's fluctlight is damaged, leaving him comatose. Feeling insecure about the people at the Axiom Church, Alice brings the unconscious Kirito back to their hometown—Rulid Village, disregarding her banishment due to an unabsolved crime. Now, Alice is living an ordinary and peaceful life close by the village, wishing for Kirito to wake up. However, tragedy strikes when Alice notices that the Dark Territory has already started to invade the Human Empire. Reassuming her previous alias, Alice Synthesis Thirty, she promises to defeat the Dark Territory in order to defend the world that Kirito and Eugeo worked so hard to protect.
Facts
Original Name ソードアート・オンライン
Status Returning Series
Networks
Type Scripted
Original Language Japanese
Content Score
Almost there...