Overview
The players of a virtual reality MMORPG, Sword Art Online, are trapped and fighting for their very lives. After it is announced that the only way to leave the game is by beating it, Kirito—a very powerful swordsman—and his friends take on a quest to free all the minds trapped in Aincrad.
Featured Crew
Creator

Creator
Top Billed Cast
Asuna / Asuna Yuuki (Voice)

Kirito / Kazuto Kirigaya (Voice)

Yui (Voice)
Current Season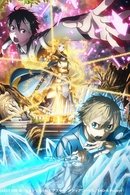 2018 | 12 Episodes
Kirito awakens in a vast, fantastical forest filled with towering trees. In his search for clues to the truth of his surroundings, he encounters a young boy who seems to know him. He ought to be a simple NPC, but the depth of his emotions seem no different than a human. As they search for the boy's parents, Kirito finds a peculiar memory returning to him. A memory from his own childhood, of this boy and a girl, too, with golden hair, and a name he should have never forgotten—Alice.
Facts
Original Name ソードアート・オンライン
Status Returning Series
Networks
Certification
Meaning

This program contains material that parents may find unsuitable for younger children.
Type Scripted
Original Language Japanese
Runtime 23m
Content Score
Just a little bit more...