Episodes
2
When Dr. Kelso tells the Janitor that nobody cares what he thinks, he starts a newspaper called "The Janitorial" to prove him wrong. J.D. and Turk fight over their manhood issues, while Dr. Kelso is too proud to ask for help about one of his problems.
Read More
Expand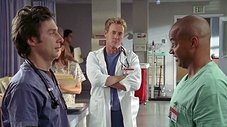 Dr. Cox had a patient that he hadn't been able to diagnose for two years, and he is back again.
Dr. Kelso has to face a retirement board when his true age is revealed. Elliot and Carla try to find enough people in favor of Dr. Kelso to keep him as Chief of Medicine.
Read More
Expand