Episodes
7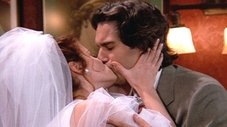 When Grace receives an unexpected marriage proposal from her boyfriend, Will tries to be supportive of her decision but finally tells her that she's making a mistake, even though he's putting their friendship at risk. The situation is complicated by interference from Grace's socialite assistant, Karen, and Will's outrageous friend, Jack.
Read More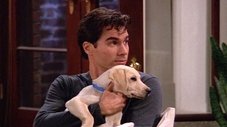 After Grace defies Will's wishes and brings home a puppy, Will can't resist the pooch and begins to treat him like a newborn baby. Meanwhile, Jack and Karen worry about the dog's effect on Will and Grace and insist that the new parents go out for a night on the town.
Read More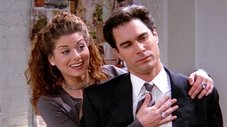 Will finds a "substitute Grace" in Val, a new neighbor who is available for plans with Will while Grace is consumed with work. As Will and Val continue to spend more time together, Grace fears that she has been replaced and fights with Val to regain Will's attention. Meanwhile, Jack seeks support from Karen after the court finds him guilty of slapping a meter maid and sentences him to pick up trash.
Read More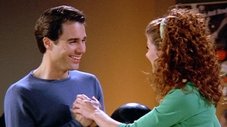 When Rob and Ellen admit that they don't have fun playing games with Will and Grace because of Grace's competitive nature, Grace works to change her image. However, as Grace loses her competitive edge, Will's emerges and he convinces his partner to care only about winning. Meanwhile, after learning how to administer CPR from Jack, Karen saves a workman's life.
Read More
Despite her moving out (to across the hall), Will still feels that Grace clings to him, so she asserts her independence by having a dinner party without him. Meanwhile, to keep the INS at bay, Jack is forced to move in with Rosario.
Read More
Tired of Rob and Ellen's low-rent taste in dining, Will and Grace start hanging with a pair of hip downtowners they meet at a sushi joint. But as the new pals paint the town, Rob and Ellen see red when they catch their best friends lying to avoid plans to dine at their favorite eatery: a coupon-crazy Italian chain in Secaucus. Meanwhile, Jack's inner child gets a little pick-me-up when he joins Karen at a PTA meeting at her kid's school.
Read More
When Rob and Ellen ask Will and Grace to be the best man and maid of honor at their wedding, Grace's sexy past with the groom is exposed when Ellen learns at her bachelorette party that Grace once slept with Rob. Meanwhile, Jack is confused by his reaction to the entertainment at Rob's bachelor party.
Read More