Episodes
5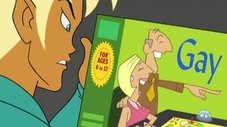 With some not-so-gentle coaxing from his roommates, Xandir finally comes to terms with his homosexuality. But after awkwardly breaking the news to his girlfriend, and getting dumped as a result, Xandir desperately tries to find a way back in the closet. Meanwhile, after seeing Ling-Ling's incredible sewing abilities, Spanky exploits him as a source of cheap sweatshop labor, hoping to make a fortune selling knockoff sneakers to the NBA.
Read More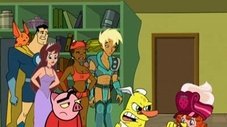 The conclusion of the cliffhanger involves the cast crash landing on a supposedly deserted island. The cast mates, with the exception of Toot, make it back to the house, where they start to interview new roommate possibilities, including Scorpion from the Mortal Kombat video games.
Read More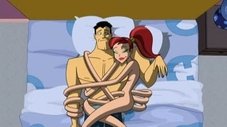 Captain Hero gets a visit from his ex-girlfriend, UFG (Unusually Flexible Girl), who reminds him of their marriage pact once they both hit 30. Meanwhile, Foxxy Love tries to get the Foxxy 5 band back together so they can all reclaim their fame.
Read More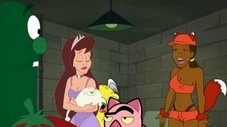 Wooldoor hits puberty at long last and can't keep himself from masturbating. Thus, his Clum Babies with their healing powers are born. Clara, however, thinks this is an act against God and vows to stop him. Meanwhile, Ling-Ling's bachelor days might be numbered as his mother and father send an arranged battle mate to the Drawn Together house.
Read More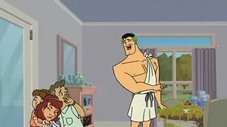 Captain Hero is thrilled to discover Greeks have moved in next door, but remains oblivious to the fact that it is a family of Greek immigrants and not a Greek fraternity. When the Greeks won't let Captain Hero rush their house, he sets his sights on revenge, including fraternity-style pranks like kidnapping their daughter. Meanwhile, Ling-Ling's sickly father moves into the Drawn Together house and falls in love with Toot. Like a typical gold digger, Toot marries the rich old man for his money. But will Ling-Ling put up with losing his inheritance to a fatty?
Read More