Overview
Media
Fandom
Share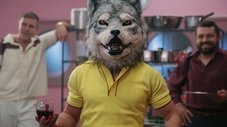 It's Christmas in the 1980s. Adolf Hitler is alive and has two Yuletide wishes: Danger 5 dead... and the world under his Christmas tree.
Read More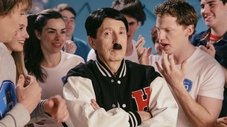 Hitler has infiltrated a high school in the American mid-west in search of a female senior student. His motives are unknown. Danger 5 are forced to go undercover and back to school, where Tucker's teaching skills are pushed to the limit, Pierre's coolness is put to the test and Jackson is hunted by a ruby-eyed wolf man with a machine gun and a grudge.
Read More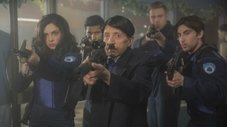 Danger 5 are fugitives in Metro City, wrongfully accused of kidnapping high school senior Holly De Palma. Hitler has infiltrated the police and leads the hunt for Danger 5 but little does he know that his own people are working against him: Joseph Mengele and his sinister accomplice Mr. Pedro are plotting a scheme, which involves the return of some scaly prehistoric bad-guys.
Read More
After being abducted by Mr. Pedro, Hitler is taken captive in the Vatican. A gang of surviving Nazi war criminals have formed a mutiny against Hitler and plan to hijack Catholicism in a bid for world domination. Pierre's faith is put to the test as he fights to save Christmas from the Nazis. Meanwhile Tucker retreats into a fantasy world, Ilsa encounters an old flame and McKenzie investigates Holly's newfound ability.
Read More
Hitler comes back from the dead as a zombie, and he's brought a horde of Nazis with him. As he continues his quest for Holly, Ilsa seeks revenge against Khrushchev for throwing her over, and McKenzie must pump or die when Claire's zombie head bites him.
Read More
Danger 5 go back to World War II in an attempt to stop Hitler from changing the fabric of time. Ignoring the perils of messing with the space-time continuum, Tucker is dead set on changing the course of history for his own selfish motives while Pierre suffers the consequences. Jackson and Ilsa have a run-in with their past selves and share advice on the future. Meanwhile Hitler is holding Colonel Chestbridge hostage in his mountain lair.
Read More
In the final instalment of Danger 5, the team find themselves in an alternate future where Hitler is undisputed ruler of the universe. In Hitlerland everyone speaks German, everyone loves dogs and worst of all, everything is vegetarian! Danger 5 embark on a quest across space dodging Hitler's deception at every turn. They encounter old friends, new foes and a talking pelican on this epic quest to save the universe.
Read More
Crew
0
Directed by: No director has been added.
Written by: No writer has been added.
No episode images have been added.