Overview
Media
Fandom
Share
Overview
Ippo, the son of a fishing boat tour owner, takes up boxing to increase his confidence. Through intense training and willpower Ippo claims the Japanese featherweight title.
Creator
Last Season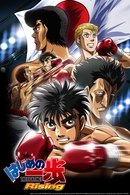 2013 | 25 Episodes
Is the third season of the Hajime no Ippo anime. It started airing on October 6th 2013 at 1:35 am and concluded airing on April 2014.
Content Score
Just a little bit more...