Overview
Graf Yoster gibt sich die Ehre [French title: Le comte Yoster a bien l'honneur] is a TV series which followed the adventures of the title's amateur gentleman detective. It was a success in particular in Germany and in France. Originally the show was a German production in black-and-white but it evolved into a European co-production in colour.
Last Season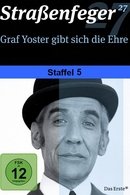 1976 | 12 Episodes
Season 5 of Graf Yoster gibt sich die Ehre premiered on November 22, 1976.
Keywords
No keywords have been added.
Content Score
Still needs a little work.