Overblik
Green Lantern er ikke bare én superhelt, men et gigantisk intergalaktisk korps, som den jordiske Lantern kun er en lille del af. Men på Jorden er han alene. Hans hemmelige identitet er testpiloten Hal Jordan og han er som regel altid i nærheden, når der er brug for en superhelt.
Serien begynder med en dobbeltepisode, hvor Green Lantern er tvunget til at bryde lygtekorpsets regler og drage afsted på egen hånd. For flere af hans kammerater er i fare og noget tyder på, at en sammensværgelse truer hele korpset.
Green Lantern-serien byder på et stort udvalg af meget sære væsener som vor helt skal besejre, fabelagtige rumkampe, hvor animatorer har fået lov til at boltre sig i effekter og også en enkelt rumdronning, som vor helt imponerer med sit mod og sin styrke.
Green Lantern serien er skabt af de erfarne superhelteanimatorer Bruce Timm og Sam Liu og det kan man mærke, for det er den perfekte blanding af superhelte-eventyr og science fiction.
Fremhævede Medarbejdere
Creator
Last Season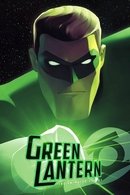 2011 | 26 Episoder
Season 1 of Green Lantern: The Animated Series premiered on 11 november 2011.
Fakta
Status Returning Series
Network
Certificering
Mening

This program contains material that parents may find unsuitable for younger children.
Type Scripted
Original Language engelsk
Spilletid 22m, 25m
Indholds Score
Ja. Ser godt ud!