Episodes
6
In order to save his football team and repay the $9 million to Cecil Colby, Blake flies to
Las Vegas and obtains a loan from gangster Logan Rhinewood. Nick tells his sister
that Blake is to
blame for the death of their kid brother, who hanged himself in jail. He intends to find
proof and claim vengeance. Sammy Jo has a nightmare and goes to Steven for
comfort. In the morning, Alexis sees her leaving and promptly tells Krystle that the two
spent the night together. When Alexis suggests that Steven, once again his father's
heir, should consider marrying, he asks Claudia to give some thought to a future
together. Fallon and Nick make love. While skeet shooting, Alexis spots a pregnant
Krystle riding her horse. She fires, and the frightened animal throws Krystle to the
ground. She is rushed to the hospital, in danger of losing the child.
Read More
Krystle almost sleeps with Nick, but stops the whole thing. Nick says he's in love with her, and that he wants her, but she won't cheat on her husband. Blake comes home and tries to tell her the paparazzi photo is not what it looks like, but she won't believe him. Jeff is angry with Fallon because of her abortion plans and wants to divorce her. Fallon cancels the abortion. Steven and Sammy Jo get married, and Steven decides he's interested in car racing.
Read More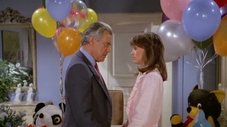 Steven and Sammy Jo return to the mansion and tell everybody except Blake that they are married. We get the impression that Sammy Jo only married Steven for his money. Alexis does everything she can to make Krystle think Blake had an affair in Rome. Nick tells Krystle he's deeply in love with her and persuades her to leave Blake. Ray Bonning, who represents Rhinewood starts interfering in the way Blake controls his team and wants to buy the whole of it. In the end, a car drives by Blake and Jeff and someone throws a bomb at them. They survive, but it leads to blindness for Blake.
Read More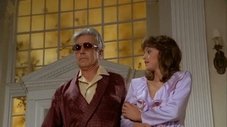 Blake is frustrated because of the blindness. He's also sure that Bonning is behind the bomb attack and settles plans to get revenge. Krystle wants to wait with telling Blake about her divorce plans until he's better. Blake wants Fallon and Jeff to be friends and stay together and have their baby in peace. Fallon tells Alexis about her affair with Nick, and that she's deeply in love with him. She's also found out about Krystle's relationship with Nick and Alexis is going to help her get Krystle out of their lives.
Read More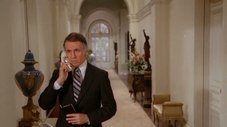 Blake gets a meeting with Logan Rhinewood set up. Steven goes to Hollywood and finds Sammy Jo modeling in a cheap studio. Blake and Cecil takes a blood test and it proves that Blake is Fallon's real father. Alexis and Cecil start flirting with each other. The last news about Matthew and Lindsay is that they are dead. When Claudia finds out, she blames Cecil and wants to shoot him. Krystle tries to stop her, and in their struggle, the gun goes off.
Read More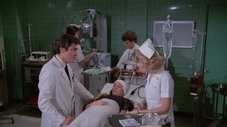 Claudia is badly hurt after the shooting and has an operation at the hospital. The police starts asking questions and thinks Krystle is responsible for the accident. Blake finally gets to talk to Rhinewood, though it's just by using a microphone, so Blake can't see Rhinewood. What Blake doesn't know is that the man he's talking to really is Cecil. Cecil and Alexis sleeps with each other again and Cecil proposes to Alexis. Claudia survives but has talking problems and does not remember the accident.
Read More