Episodes
5
While Marshall Matt Dillon is pursuing two fugitives from justice, he is taken captive by the same men Matt is pursuing.
One of the outlaws (Augie) shoots Matt and the outlaws take Matt captive.
One thing that Matt notices right off is how abusive one of the outlaws is to the other. Rack abuses and humiliates Augie.
After Matt sees how Rack abuses Augie, Matt tries to play on Augie's anger at Rack in the hopes that Augie might help Matt in this predicament.
After Matt works on Augie's hatred towards Rack, Matt waits for an opportunity to strike back,
Read More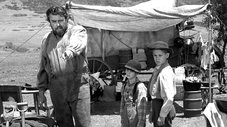 Sarah Cooley, dying of a heart attack, confesses to her husband, Gip Cooley, that her father changed his last name from Harper to Harris long before they were married. Harper was known for killing over 100 men, and Sarah wanted Gip to know about this so that he can raise his sons accordingly. She's convinced the bad blood has been passed on. Gip promises to be strict with them and Sarah passes on. Years later, with the boys, Kyle and Jeff, in their mid-twenties, Jeff accuses neighbor Carr of selling him a horse that's blind in one eye, but Carr won't buy it back. Kyle falls in love with saloon girl Jenny, but she marries Carr instead because he has his own ranch. She soon realizes it's a mistake and starts meeting Kyle on the sly. A plan is engineered to kill Carr and set Jeff up to take the fall for it!
Read More
Kitty saves the life of a man during a stage hold-up, taking him back to his ranch she finds his mother a ruthless matron and his daughter alienated from her father.
Read More
Festus is rescued from a rock avalanche by a young hide cutter. His fellow cutters are following a herd of cattle with hopes of stealing them for the hides.
Read More