Episodes
6
We don't have an overview translated in English. Help us expand our database by adding one.
We don't have an overview translated in English. Help us expand our database by adding one.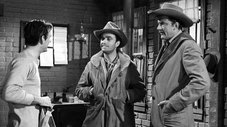 Matt runs into Perce McCall on the prairie and they decide to camp together. Three outlaws, who think Matt's been tracking them, show up and try to kill him. Even though Perce knows them, he sides with Matt and all three outlaws are killed. Matt is beholdin' to Perce for saving his life. Perce explains that he knew the outlaws from the past when he used to rob stages. He got caught, paid the price, and is now heading to Dodge to do a little gambling and have some fun. The trouble starts when Perce meets Ida Poe, one of Kitty's girls, and decides to go after her. Hank Seeber, who considers Ida his girl, takes exception. Ida's dark side appears when she tells Perce she needs a man that can ""make his own luck,"" (cheat at cards) and provide a financially secure future for her. She's unimpressed with his job at the
stock pens and shames him into searching for a better way. Soon after Perce leaves Dodge it's reported that the stage was held up on the road to Wichita.
Read More
Billy Joe escapes from an army discilinary barracks work detail killing Sargeant Jellicoe in the process. The Major his two sons, Seth and Ham, and his daughter-in-law, Sarah come to town for supplies. Billy Joe gets in a fight at the Long Branch. Matt tells him to get outta Dodge. Matt gets a wanted poster on William Josph Arlen, and heads out looking for Billy Joe. Billy Joe's horse threw him. Matt's find him. the Major and Seth ride up and say, Billy Joe killed Ham and attacked Sarah. They'll bring proof. Matt locks up Billy Joe. Doc says Sarah sits like she is frozen. The Major brings Sarah to identify Billy Joe. She states he was there. He says he just had coffee and left. The Major won't let him be returned to the army to face federal charges first. Sarah overhears Doc and Kitty of the Major's plans. She tells the Major he didn't kill Ham. Seth shoots Billy Joe. Matt shoots Seth. Seth shot Ham so he could marry Sarah.
Read More
Chester gets a letter and asks for a raise. Chester goes to work for Quint. The letter's from Uncle Sunday Meechum from Waxahatchie, Texas. Chester wants money to send him to California. Chester catches Quint's place on fire. Quint says he can't afford him. Chester next job is with Mr. Jonas then Dan Binney. Burt Curry offers Chester easy money until he finds that he works for Matt. Sunday arrives and introduces his niece Ellie. Chester asks his uncle what's he doing here. Just visiting. Burt wants to meet Ellie at midnight. After dinner Chester asks to meet Ellie later. Burt and Chester are both waiting for Ellie. When she comes Burt leaves. Chester leaves and sees Burt go to Ellie. Chester hears Sunday and Ellie are going to rob the bank. She's dumping Sunday for Burt. Chester tries to get Sunday out of town for the night. He won't go. Chester tells Sunday that Ellie has thrown in with Burt. Botkin lets Sunday and Ellie into the bank. Sunday pulls a gun. Ellie
Read More
Cora Prells's first job as a saloon girl is short lived. At the Golden Horn Saloon in Wichita,she refuses to drink with Jesse Price and others and quits. Cora's working at Mr. Ross' general store. Jesse asks her for a drink, she refuses. Joe Simms tries to manhandle Kitty. Quint intervenes. Joe wings Quint. Sam knocks the gun out of Simms' hand. Quint cleans Simms' clock. Tom King gets a date with Cora. They marry. Tom introduces Cora to his uncle, Jesse Price. Jesse sent Tom in to meet Cora. Simms tells Cora was a saloon girl. Simms wants to tell that to Tom. Jesse says you better not. Sam overhears this. Jesse feigns being sick and says he's going home. Jesse shoots Simms in the back. Jesse tells Cora he wants her to be his. Matt asks Sam what he overheard. Two yahoos say Quint said he'd kill Simms. Jesse tells Matt Tom is going to kill Simms. Matt tells Cora. Cora tells Tom when he rides up. Tom knew about Cora's past. Cora told Tom Jesse was after her. Jes
Read More