Episodes
5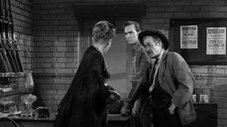 Rena Decker, a new dance hall girl, purposely gets her admirers into fighting over her. Despite Kitty's negative opinion of her, Matt befreinds Rena and gets her a job at the Long Branch. Soon afterward, 4 men are dead and Rena is the cause.
Read More
A Texas cowhand is murdered and they won't tell the Marshall who did it so Matt decides to close all the saloons and shops till they do.
Read More
We don't have an overview translated in English. Help us expand our database by adding one.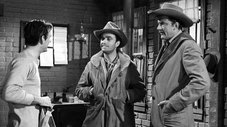 Matt runs into Perce McCall on the prairie and they decide to camp together. Three outlaws, who think Matt's been tracking them, show up and try to kill him. Even though Perce knows them, he sides with Matt and all three outlaws are killed. Matt is beholdin' to Perce for saving his life. Perce explains that he knew the outlaws from the past when he used to rob stages. He got caught, paid the price, and is now heading to Dodge to do a little gambling and have some fun. The trouble starts when Perce meets Ida Poe, one of Kitty's girls, and decides to go after her. Hank Seeber, who considers Ida his girl, takes exception. Ida's dark side appears when she tells Perce she needs a man that can ""make his own luck,"" (cheat at cards) and provide a financially secure future for her. She's unimpressed with his job at the
stock pens and shames him into searching for a better way. Soon after Perce leaves Dodge it's reported that the stage was held up on the road to Wichita.
Read More
Tim Finnegan and Sean O'Ryan have been feuding over Kathleen, a girl back in Ireland Tim's building a fence. Sean shoots Tim's hat off and says he is on his land. Sean sends Tim's wagon down the hill. Tim takes a few potshots at Sean. They're is a salt mine on thier property. Clay Bealton is scheming to get it. At the Long Branch Tim shoots Sean's beer out of his hand and says go for your rifle. Kitty shoots off a shotgun and Sam gets their rifles. Clay tells Elton Harris the land office guy to go home. Clay buys Sean a bottle. Clay goes to Tim and tells him Sean said Kathleen isn't the type of girl a man wants to marry. They brawl and it spills out onto the street. Clay's men each throw Tim and Sean a gun. Tim accidentily wounds Harris. Up in front of Judge Brookins Tim and Sean get $564 in fines and damages and are told they are responsible for each others lives. Sean fallen into a hole. Tim throws him a rope after first riding off. Harris brings Clay the land claim
Read More