Overview
Media
Fandom
Share
Episodes
6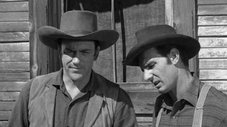 Kitty's been riding in her riding skirt. Hoffer says he's gonna kill Zach Ritter. Matt tries to take Hoffer's gun, as Zach enters. Matt gets winged. Zach doesn't want to press charges. Matt turns Hoffer lose. Bates tells Matt Zach's been shot and Hoffer did it. Hoffer is dying in front of his house. He tells Matt Sam Baxter shot him. Hoffer says he didn't shoot Zach. Matt arrests Sam, the killing doesn't stop.
Read More
Matt's old friend, Esteban Garcia, tracks a man into Dodge and plans to kill him for stealing his wife.
Read More
We don't have an overview translated in English. Help us expand our database by adding one.