Episodes
5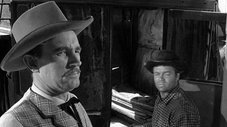 Hack Prine, a friend of Matt's rides into Dodge. However he is there as a gunman, for Matt Dillon.
Read More
Ben Justin must try and clear his name of false charges.
Read More
Matt comes back to Dodge City after capturing a prisoner he has been following for two days straight. Kitty is upset with Matt for not attending a lunch. To make up for the mistake Matt asks her out for dinner.
Read More
Matt and Luke come to restore order to a town and hide their badge as walk in a bar. They find out that it will be hard work. Luke runs into a woman that he once loved Caleb wants Luke as his dad. Luke is told to go after the woman he loves and take her back.
Luke wonders if being a Marshal is a good idea, he marries Caleb's mom and is told men are coming to the café to keep the town from dying. Matt returns with Festus and Newly to help out. Luke is leaving his job as Marshal.
Read More