Episodes
6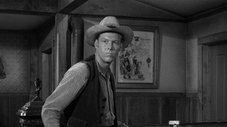 Andy Travis shoots a guy. Matt tells him you're real good with the gun, but you have a choice either put in down and you will have to constantly prove yourself. Andy unarms and goes to work for Moss Grimmick. A guys looking to draw against Andy. They fist fight. Joe Kite tells Matt I might have to shoot a man. A bouny hunter tells Matt Andy has a $1000 on his head. Joe Kite shoots Andy. Kite says he killed Andy and wants the money. Matt says you didn't kill him I did. Kite says he wants the money. Matt and the townfolk run him out of town.
Read More
A hillbilly arrives in Dodge looking to continue a feud started back in the hills of Virginia.
Read More
To escape her poverty and abusive, drunken faher, 17 year old Milly Glover decides to look for ahusband. After three humiliating attempts, she decides to pay back the men. One she lets his horses loose and burns his haystack. Another he cuts his harnesses and burns his chair. Each man blames the other and they shoot each other. Her father goes to the third man to convince him to marry Milly. They fight and he mortally wounds him. Milly and her little brother are going to be adopted by the widow Hawkins. Molly tells Matt she has some things to own up to after while.
Read More
Mark Feeney and Jim Stope find out Quint's half indian. Stope won't pay a lousy redskin the two dollars he owes Quint for shoeing his horse. Quint goes out to the river for a swim. He gets and without his shirt on he throws a lasso over a bay horse. A boy fishing watches. Will Grissom tells Bob Houser he saw his boy Jimmy and the horse down by the river. Jimmy saw a half-naked indian steal the horse. Feeney and Stope tell Matt Quint has the horse. Jimmy identfies Quint. Quint says someone told him to get the horse and shoe and he'd pay him double. Houser takes his horse. Quint says he may start wearing a gun. At Delmonico's Bettis tells Joe if you seerve Qunit all us whites are leaving. At a bar he's told they don't serve horestealing half-breeds. Louie's looking for Matt eight guys are heading for Quint's. Matt finds him and says they hit him with everything they had. Quint says he doesn't belong here. Grissom says he's shy three horses and blames Quint. Matt goes ou
Read More
Matt goes to Tascosa to bring back a murderer, Kelby, to hang. On the way back Kelby knocks Matt of his horse. Matt is dragged by his horse. Kelby rolls down the hill and is knocked out. Matt stumbles down the hill and handcuffs himself to Kelby. Matt passes out. Deke and Mellie and their son Tommy find them. Kelby comes to first and says he's the marshall. Matt wakes and says he's the marshall. Deke must decide which is telling the truth.
Read More
A buffalo hunter tracks the five men responsible for injuring his Indian son.
Read More