Overview
At Sydney's National Dance Academy, a few talented youngsters are recruited for the excruciatingly tough course. It follows Tara Webster, a sheepfarmgirl who's ambition is to be the next best ballerina. Jewish long line of doctors' heir Samuel 'Sammy' and minor juvenile offender Christian are the outsiders but gradually fit in, making new kinds of friends. Star ballerina's daughter Kat also introduces them in the circle of last-year brother Ethan, who already aspires a career as choreographer. Also Abigail, a smart young girl who'll walk over dead bodies to reach the stars tries to sabotage everything and everyone.
Featured Crew
Creator

Creator
Last Season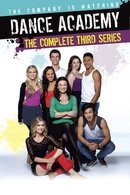 2013 | 14 Episodes
Tara and her friends are now seniors at the Academy and no one can forget that the Company is watching. It will be a hard chase to the finish line to see who will be offered a contract and finally achieve what they have been working towards for so long... and who will have to find a new dream. The friends began their training as kids with a lot to learn about dancing, about life and about themselves. This year will prepare them to say goodbye to their school days and go out into the world as resilient, courageous dancers and young adults.
Facts
Status Ended
Network
Certification
Meaning

Parental guidance is recommended for young viewers; PG-rated content may air at any time on digital-only channels, otherwise, it should only be broadcast between 8:30 a.m. and 4:00 p.m. and between 7:00 p.m. and 6:00 a.m. on weekdays, and between 10:00 a.m. and 6:00 a.m. on weekends.
Type Scripted
Original Language English
Runtime 24m, 30m
Content Score
Yes! Looking good!