Episodes
4
Dawson is torn about telling Jen the scandalous secret he has about Eve and even more distressed when his mom unexpectedly returns from Philadelphia. Meanwhile, Andie accuses Joey of sabotaging her chance to reunite with Pacey; and Jen shocks the entire town with the entertainment she has hired for the Annual Homecoming Queen Gala and shocks the very shy Henry even more when she asks him to be her escort.
Read More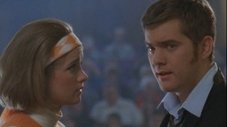 Dawson makes the radical move of dropping out of film class to spend some time re-evaluating his teenage years. Back at Potter's, Joey is torn between attending Pacey's opening night and her date with A.J., who has come to Capeside for the evening. At the play, Andie must take over as director when the faculty director takes ill; and Jen agrees to meet Henry, but she throws him another block by bringing Grams as her date.
Read More
As everyone gets ready for this year's senior prom, some bad news causes Gretchen to reflect on her life, and Joey worries about Pacey's odd behavior. Meanwhile, Jen and Jack meddle in each others' lives... resulting in some interesting prom dates. At the prom Joey and Pacey confront once unspoken issues, and the festivities cause conflict for Gretchen, as she questions her relationship with Dawson, while an unhappy Jen is rescued by an unlikely individual after she and Jack arrange dates for each other. Jen decides to drown her sorrows.
Read More
As graduation approaches, Joey has a tough time preparing her speech, and Dawson helps her find some bittersweet inspiration. Joey gets an unexpected surprise gift from her late mother. Pacey wonders if he's going to graduate at all, and he worries that his last final will be the toughest one. He walks out of it after the teacher makes a comment on him, costing him his diploma. Meanwhile, Andie McPhee returns home for the cap and gown ceremony, and is surprised to meet Jack's new boyfriend, Tobey, and a devious Drue, who has just moved to Jen's after being kicked out of his home by his mother after a fight, convinces Jen to help him pull a hilarious senior prank. Pacey tells Andie he has decided to take the job offer on a boat for the summer.
Read More