Overview
With the Ancients' city of Atlantis discovered in the Pegasus Galaxy by Stargate Command, Dr. Elizabeth Weir and Major Sheppard lead a scientific expedition to the ancient abandoned city. Once there, the team not only find themselves unable to contact Earth, but their explorations unexpectedly reawaken the Ancients' deadly enemies, The Wraith, who hunger for this new prey. Now with the help of newfound local allies like Teyla Emmagan, the Atlantis Team sets about to uncover their new home's secrets even as their war of survival against the Wraith begins.
Featured Crew
Creator

Creator
Last Season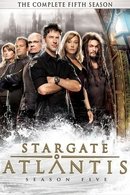 2008 | 20 Episodes
Season five of Stargate: Atlantis began airing July 11, 2008 on the Sci Fi Channel. The final season of the series concluded after 20 episodes. After being a regular character in season four Amanda Tapping (Colonel Samantha Carter) became a guest star in several episodes of season five. Robert Picardo (Richard Woolsey) joined the cast as a permanent character, as Woolsey assumed command of Atlantis. Jewel Staite (Dr. Jennifer Keller) was also promoted from recurring character to permanent cast member. Both Michael Shanks (Dr. Daniel Jackson) and Paul McGillion (Dr. Carson Beckett) appeared as guest stars in this season, with McGillion appearing in five episodes. Actress Torri Higginson did not reprise her role as Dr. Elizabeth Weir in the fifth season. Other season five regular cast members include Joe Flanigan, Jason Momoa, Rachel Luttrell, and David Hewlett respectively.
Facts
Status Ended
Network
Certification
Meaning

This program contains material that parents may find unsuitable for younger children.
Type Scripted
Original Language English
Runtime 45m, 60m
Content Score
Yes! Looking good!