Overview
Roughnecks: Starship Troopers Chronicles is a CGI animated television series, based on the novel by Robert A. Heinlein and the 1997 film adaptation. The film's director, Paul Verhoeven, served as executive producer. It follows the exploits of the Mobile Infantry squad, "Razak's Roughnecks," during the SICON–Bugs War between a newly united humanity and an extraterrestrial race, known as the "Bugs," also sometimes referred to as Arachnids. The show focuses mainly on the Roughnecks' missions, rather than addressing the larger war.
The show was geared towards an adult-oriented science fiction audience without being too violent, mature or controversial for the Saturday morning age group. The series aired for one season on BKN beginning in August 1999 and in syndication in the United States and Canada. It was later picked up by the Sci-Fi Channel in the US and Teletoon in Canada. The entire series is available to be streamed on Netflix and Crackle in the US, along with several Minisodes. Despite its short run, the series developed a cult following.
The show combines elements of Verhoeven's film and the original novel, such as the extraterrestrial race known as the Skinnies, powered armor suits and drop pods. The series also adds some original elements, while omitting the political aspects of the original work and film.
Last Season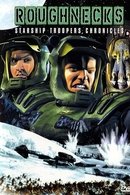 1999 | 36 Episodes
Season 1 of Roughnecks: Starship Troopers Chronicles premiered on August 30, 1999.
Facts
Status Ended
Networks
Certification -
Type Scripted
Original Language English
Runtime 30m, 22m
Content Score
Almost there...