Overview
Media
Fandom
Share
Episodes
1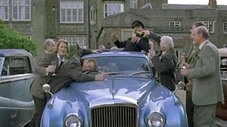 Good News: Eddie has inherited Rosemary Hawskin's Bentley. Which would be good news, but one thing. What's a Bentley? Who's Rosemary Hawskins? Why is this indian guy watching porno on Fiona's couch? These are just some of the questions Eddie wants answered. Apparently, he met Rosemary and had a wonderful conversation....and he never saw her again. So, Eddie takes the Bentley and cruises around the streets of London in his new ride with his driver, Kahn. More good news arrives when Fiona tells Eddie she's been chosen to take part in a "covergirl" type shoot.
Bad News: When Eddie awakes the next morning. The Bentley is gone! Peter Hawskins, Rosemary's son, stole the Bentley and tried to sell it to Russell the pig in exchange for not dying. More bad news comes, when Fiona's offer is given to an eighteen-year-old, whom was babysat by Fiona.
In the End: The pig gets a Bentley and an indian. Peter runs away. Fiona and Eddie hate each other....everything is back to normal.
Read More
Expand