Episodes
3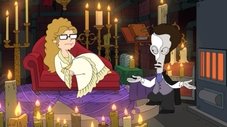 Roger suggests Stan hold a telethon to raise funds after the CIA's budget cut, but when Stan takes all the credit for the idea, Roger tries to sabotage it.
Read More
When Hayley goes to a My Morning Jacket concert against Stan's wishes, he crashes the show to bring her back home, but when he hears their music for the first time, it calls to him and he's smitten. Stan becomes obsessed with the band and decides to follow them on the road as a groupie.
Read More
If there's one thing that Stan Smith loves, it's a good jury trial. He anxiously awaits his annual jury summons. But when Roger is the defendant in the trial where Stan is the foreman, he is finally in a position to make Roger accountable for his misdeeds. Meanwhile, Jeff and Hayley move in with the Smiths, and Francine tries to get Jeff to clean up his act.
Read More