Episodes
6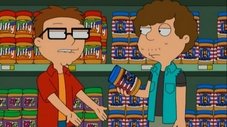 While researching a paper about George Washington Carver in celebration of Black History Month, Steve uncovers a conspiracy that's been going on since the Civil War. When the curator of the Smithsonian Peanut Museum reaches out to tell Steve the truth, he's mysteriously murdered, and Steve and Stan are tracked by a secret society that will stop at nothing to keep this scandalous secret of American history.
Read More
After Stan discovers that Francine has a secret sex garden, he feels like their marriage may be crumbling. Looking to rekindle their romance, Francine asks for a divorce so that Stan can experience life as a bachelor again, and both learn a valuable lesson in love. Meanwhile, addicted to an energy drink, Steve finds himself panhandling in the streets to support his new habit.
Read More
When Francine discovers that all of their family vacations have been artificially created memories, she gets very angry and demands a real vacation. However, when the vacation seems too good to be true, Francine is convinced it's the work of the CIA and causes the family to suffer the consequences. Meanwhile, Roger attempts to become the greatest actor who ever lived.
Read More
After Stan comes home from another dangerous mission, he finds that his family has decked the halls with boughs of holly and donned themselves with gay apparel, but just not to his satisfaction. He demands a grander Christmas starting with the search of a bigger and better tree in the forest. When his family has had enough, Stan powers on by himself, finds the perfect tree and meets an untimely end. While in Limbo, he has to fight for a second chance at life and battle the forces of good and evil to save his family.
Read More
Officially declared dead after an accident with a pudding truck, Stan comes back to life to realize his dream of leaving a legacy on the world and begins to excavate his home in search of Ollie North's "Contra"-band buried treasure. As the search for gold goes "North," life at home heads south as Hayley turns to body-piercing, Steve creates a robotic girlfriend and Roger files for sexual harassment.
Read More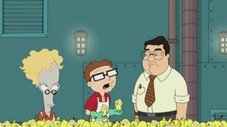 Hayley breaks up with her boyfriend and falls for Stan's body double from the CIA. Things take a bizarre twist when the double begins hitting on Francine.
Read More