Episodes
4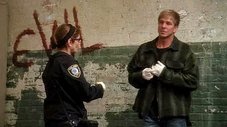 A crime from 11 years ago is on Grace's thoughts due to a new case.
Read More
A bomb explodes at the church run by Grace's brother,, making the case personal for her. Meanwhile, Rhetta is haunted by family problems, causing her to search for a family time capsule she and Grace buried as children. And, Grace keeps a watch at Neely's bedside.
Read More
The team is focused on a series of brutal home break-ins, but the latest one seems different than the others. Meanwhile, Matthew, a fellow angel of Earl's, is having trouble saving souls, and hones in on Earl's space.
Read More
Summer finale. A prominent doctor fatally wounds an intruder in his house, but Grace feels the doctor's story isn't exact. Ham breaks some interesting news to Grace, and Earl tells her she will need to help Neely.
Read More