Overview
Ready or Not is a Canadian teen drama series which aired on the Showtime Movie Channel and later on the Disney Channel and Global Television Network for 5 seasons and 65 episodes between 1993 and 1997 in both Canada and the United States.
Featured Crew
Creator
Last Season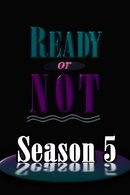 — | 13 Episodes
We don't have an overview translated in English. Help us expand our database by adding one.
Recommendations
We don't have enough data to suggest any TV shows based on Ready or Not. You can help by rating TV shows you've seen.
Content Score
Almost there...