Episodes
3
A special featurette detailing the making of SciFi original mini-series The Triangle. Interviews include executive producers Bryan Singer and Dean Devlin, executive producer/writer Rockne S. O'Bannon, director Craig R. Baxley, all the six main cast members, and some of the the special effects crew. Also features behind-the-scenes footage and clips from the mini-series.
Topics discussed were the special effects and the crew behind them, assembling the cast and the chemistry between actors, characters' backgrounds, writing the story, shooting in Cape Town, South Africa, the sets and equipment used, and -- special effects (again).
Read More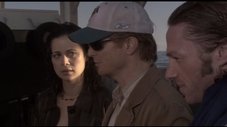 Billionaire Eric Benirall hires a team of experts in diverse fields to investigate why his ships have gone missing in the Bermuda Triangle. Meanwhile, Greenpeace activist Meeno Paloma witnesses a terrible accident involving a Japanese whaler and a Greenpeace vessel, and begins to question his memory as he finds that his life and family have been strangely altered.
Read More