Overview
Media
Fandom
Share
Episodes
6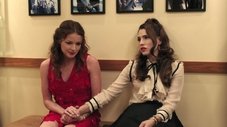 After Ginger's live baptism causes an uproar among fans, Margaret invites her to appear on "Wings of a Dove." Jason's lies start to catch up with him. Ginger asks for Margaret's help with a stalker.
Read More
As tension continues to build after the incident with the mysterious stalker, Rose offers the Monreaux home as a safe haven for Ginger and her mother Tina.
Read More
Margaret's confidante, Franklin, uses Mardi Gras to reflect and honor his mother's memory.
Read More
Ginger tries to leverage the tape of her kidnapping with Luke to bring down the men of 18:22.
Read More