Overview
Media
Fandom
Share
Overview
Considered a genius due to having the highest grades in the country, Miyuki Shirogane leads the prestigious Shuchiin Academy's student council as its president, working alongside the beautiful and wealthy vice president Kaguya Shinomiya. The two are often regarded as the perfect couple by students despite them not being in any sort of romantic relationship.
However, the truth is that after spending so much time together, the two have developed feelings for one another; unfortunately, neither is willing to confess, as doing so would be a sign of weakness. With their pride as elite students on the line, Miyuki and Kaguya embark on a quest to do whatever is necessary to get a confession out of the other. Through their daily antics, the battle of love begins!
Current Season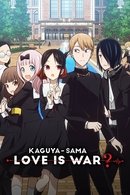 2020 | 12 Episodes
After a slow but eventful summer vacation, Shuchiin Academy's second term is now starting in full force. As August transitions into September, Miyuki Shirogane's birthday looms ever closer, leaving Kaguya Shinomiya in a serious predicament as to how to celebrate it. Furthermore, the tenure of the school's 67th student council is coming to an end. Due to the council members being in different classes, the only time Kaguya and Miyuki have to be together will soon disappear, putting all of their cunning plans at risk. A long and difficult election that will decide the fate of the new student council awaits, as multiple challengers fight for the coveted title of president.
Facts
Original Name かぐや様は告らせたい~天才たちの恋愛頭脳戦~
Status Ended
Networks
Type Scripted
Original Language Japanese
Content Score
Almost there...