Overview
Media
Fandom
Share
Overview
Iwatani Naofumi was summoned into a parallel world along with 3 other people to become the world's Heroes. Each of the heroes respectively equipped with their own legendary equipment when summoned, Naofumi received the Legendary Shield as his weapon. Due to Naofumi's lack of charisma and experience he's labeled as the weakest, only to end up betrayed, falsely accused, and robbed by on the third day of adventure. Shunned by everyone from the king to peasants, Naofumi's thoughts were filled with nothing but vengeance and hatred. Thus, his destiny in a parallel World begins...
Creator

Creator
Last Season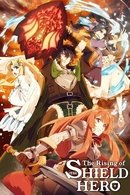 2019 | 25 Episodes
The Four Cardinal Heroes are a group of ordinary men from modern-day Japan summoned to the kingdom of Melromarc to become its saviors. The four heroes are respectively bestowed a sword, spear, bow, and shield to vanquish the Waves. Naofumi, an otaku, becomes cursed with the fate of being the "Shield Hero." Armed with only a measly shield, Naofumi is ridiculed by his fellow heroes. When the heroes are provided with resources and comrades to train with, Naofumi sets out with the only person willing to train alongside him, Malty. He is soon betrayed becomes falsely accused of taking advantage of her. Naofumi then becomes heavily hated by the people for something he didn't do. With a raging storm of hurt and mistrust in his heart, Naofumi begins his journey of strengthening himself and his reputation. As the Waves approach the kingdom, Naofumi and Raphtalia must fight for the survival of the kingdom and protect the people of Melromarc from their ill-fated future.
Facts
Original Name 盾の勇者の成り上がり
Status Returning Series
Networks
Type Scripted
Original Language Japanese
Content Score
Yes! Looking good!