Overview
Media
Fandom
Share
Overview
This scripted anthology series mashes up wildly different genres to tell suspenseful stories with funny, imaginative twists. Each episode turns familiar tropes inside out to create a curated and eclectic collection of stories filled with equal parts nostalgia and modern satire.
Creator
Last Season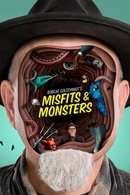 2018 | 8 Episodes
Season 1 of Bobcat Goldthwait's Misfits & Monsters premiered on July 11, 2018.
Content Score
Just a little bit more...