Overview
The Adventures of Sherlock Holmes is a series of adaptations of Arthur Conan Doyle's Sherlock Holmes stories which were produced by Granada Television and originally broadcast by ITV in the United Kingdom.
Featured Crew
Creator

Creator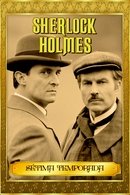 1994 | 6 Episodes
The final season of Sherlock Holmes as portrayed by Jeremy Brett. His appearance has changed and he will soon die of heart failure.  The plan had been to adapt all of Doyle's Sherlock Holmes stories but time is running out for their star icon and Granada decided to end the series when Brett died.  These are the last performances from a great British actor who is classed as portraying one of the world's most iconic  presentations of Sherlock Holmes.  The series was first known as "The Memoirs of Sherlock Holmes, after the title of the collected short stories written by  Sir Arthur Conan Doyle.
Facts
Status Ended
Network
Certification
Meaning

Todos (suitable for all).
Type Scripted
Original Language English
Runtime 60m
Content Score
Yes! Looking good!