Overview
Media
Fandom
Share
Overview
Dateline NBC, or simply Dateline, is a weekly American television reality legal show/newsmagazine series that is broadcast on NBC. It was previously the network's flagship newsmagazine, but now focuses mainly on true crime stories with only occasional editions that focus on other topics. The program airs Fridays at 10 p.m. Eastern Time and, after NFL football season, on Sundays at 7 p.m. ET. Two-hour feature-length editions sometimes air on any given scheduled evening, often to fill holes in the primetime schedule on the program's respective nights due to program cancellations.
Series Cast
1 Episode
Last Season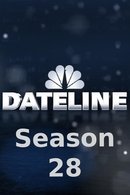 — | 1 Episode
Dateline presents in-depth coverage of news stories. Rather than just reading news reports, as most news shows do, the reporters for this show research their subjects and interview the people closely involved to create an informative work of investigative journalism.
Content Score
There's no 'I' in team...