Episodes
5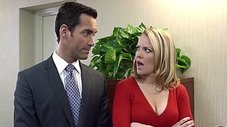 Ted inadvertently deletes himself from Veridian's system when he tries to fix his employee ID, and, as the lab falls into chaos, his peers try to remedy the situation.
Read More
Ted creates a phony project for Linda after she hears that Veridian is going green, which becomes problematic when other staffers want to join the cause.
Read More
When a wave of layoff hits Veridian and little Rose seems to have inside info because of a friend in her Hive playgroup, Veronica tries to pump her for information, much to Ted's disapproval. Meanwhile, Linda is elated to sell her first children's book -- until someone points out that her lead character, a lemur, is the spitting image of Phil -- and Lem starts a passionate affair with one of the company lawyers, only to find out that his paycheck is being docked for the "billable hours" he's spending with his new girlfriend.
Read More
Lem flips out when his mother, a brilliant scientist who has always intimidated him, comes to visit and begins an affair with Dr. Bhamba. Meanwhile, Ted gets miffed when Linda suddenly gets all the credit after she makes a suggestion to improve on his prize project, a light bulb that burns forever.
Read More
Ted insists on taking the high road after his nemesis at work comes up with almost the exact same project that Ted's team has been working on. But Veronica will stop at nothing to get the upper hand, enlisting Linda and even little Rose's help in sabotaging the rival project
Read More