Overview
Media
Fandom
Share
Overview
The cult hit returns! Captured by mad scientists, new host Jonah survives a blitz of cheesy B movies by riffing on them with his funny robot pals.
Creator
Series Cast
We don't have any cast added to this TV Show. You can help by adding some!
Last Season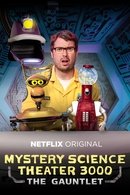 2018 | 6 Episodes
Season 2 of Mystery Science Theater 3000 premiered on November 22, 2018.
Content Score
Just a little bit more...