Overview
On Christmas 2013, the band Wake Up, Girls plays their debut song to a small audience without much fanfare. After the concert, the group's manager takes off with the money, leaving Green Leaves Entertainment on the verge of closure and the band without a future.
Despite this tumultuous beginning, the girls get a second chance, thanks to a mysterious benefactor and a shady business proposal. From here it's a rocky climb to the top, but it's a climb the girls are ready to make. Wake Up, Girls! follows the internal and external struggles of being a small-time idol girl band, from finding and accepting gigs to competing in popularity against other pop bands.
Through the band, the girls come to accept their pasts and become more certain about their futures. Faced with increasing stakes and popularity, each of the band's seven members must find the strength and courage inside herself to give her all to the band.
Series Cast
We don't have any cast added to this TV Show. You can help by adding some!
Last Season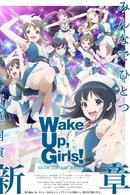 2017 | 13 Episodes
Season 2 of Wake Up, Girls! premiered on October 10, 2017.
Recommendations
We don't have enough data to suggest any TV shows based on Wake Up, Girls!. You can help by rating TV shows you've seen.
Facts
Original Name Wake Up, Girls!
Status Ended
Networks
Certification -
Type Scripted
Original Language Japanese
Runtime 25m
Content Score
We're so close, yet so far.