Episodes
3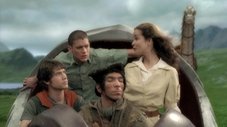 When David and Karl go on a flying trip with their father, a thunderstorm commenced and it threw them off course into another world. The trio sank in the sea, but only Karl and David were able to get out of the plane. On a mysterious island, they meet an antique seller named Cyrus Crabb and he showed them around the world of Dinotopia, ran by Mayor Waldo. In this new world they meet Marion Waldo, the daughter of the mayor and a huge collection of Dinosaurs. While trying to reach the city, they were attacked by ferocious Carnivores, and Karl and David learned that the Sunstones which power all of Dinotopia were discipating. Stranded on the island, the two brothers may never see their real world and their father ever again.
Read More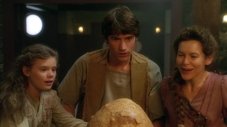 In the city, David tried to learn new things about DInotopia such as their cultures, geography, and language while Karl decided to find a way out of Dinotopia. He did not want to stay in Dinotopia but David encouraged him to join him to learn new things, but they continued to argue and fight whether to stay or go.
Read More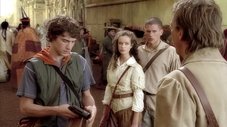 When David and Karl were trapped in one of the dangerous forests in Dinotopia, Marion and Zippo finally recovered them, and discovered new things while they were there. Later, David, Karl, Marion, and Zippo along with the map from Cyrus Crabb, they would journey to the World Beneath as their last report to bring back Sunstones to reenergize the failing and rampaging Waterfall City. Marion and Zippo returned to the city while David, Karl and Cyrus used his small submarine to enter the World Beneath. David decided to keep one of the Sunstones with him in case Cyrus was going to backstabbed them, and sure Cyrus did.After they found the boys father, Cyrus wanted to leave the family behind and he shot Karl and escaped with all the Sunstones that the group gathered. But he didn't go far without the Sunstone (that had the perfect size) that powered his submarine. The family of three with a wounded Karl were able to find their way back to the surface and David found Freefall at the temple in the dangerous forest ,David joins Marion and the other Waterfall citizens in their fight against the evil dinosaurs. Karl and the boys father return to Waterfall City to revive the destroyed city.
Read More