Overview
Takumi Fujiwara continues his undefeated racing streak, touring the mountain passes of Japan with rival driver Keisuke Takahashi as a part of ex-racer Ryosuke Takahashi's racing team: "Project D".
Series Cast
Takahashi Ryousuke

24 Episodes

Takahashi Keisuke

24 Episodes

Takumi Fujiawa

24 Episodes
Last Season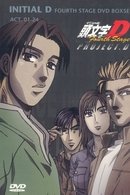 2004 | 24 Episodes
Season 1 of Initial D: Fourth Stage - Project D premiered on April 16, 2004.
Content Score
We're so close, yet so far.