Overview
Secret Story takes more or less the basic principles of Big Brother, a reality show created in 1997 by the Dutchman John de Mol. The game contestants are cut off from the rest of the world during ten to fifteen weeks in a house called "house of secrets", where every room is fitted with video cameras, except the restroom. They have to keep a secret while trying to discover the other contestants' one.
Top Billed Cast
Himself - Host
Current Season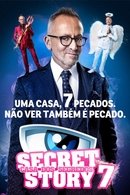 2018 | 127 Episodes
Season 7 of Secret Story - Casa dos Segredos premiered on February 25, 2018.
Recommendations
We don't have enough data to suggest any TV shows based on Secret Story - Casa dos Segredos. You can help by rating TV shows you've seen.
Content Score
We're so close, yet so far.