Overview
Detective dramas featuring private investigator Cormoran Strike based on the novels by Robert Galbraith (J. K. Rowling's pen name).
Featured Crew
We don't have any crew added to this TV Show. You can help by adding some!
Current Season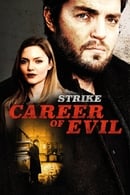 2018 | 2 Episodes
When a mysterious package is delivered to Robin Ellacott, she is horrified to discover that it contains a woman's severed leg. Her boss, private detective Cormoran Strike, is less surprised but no less alarmed. With the police focusing on the one suspect Strike is increasingly sure is not the perpetrator, he and Robin take matters into their own hands, and delve into the dark and twisted worlds of the other three men. But as more horrendous acts occur, time is running out for the two of them...
Find out where to watch this on:
Facts
Status Returning Series
Network
Certification
Meaning

Only those over 15 years are admitted. Nobody younger than 15 can rent or buy a 15-rated VHS, DVD, Blu-ray Disc, UMD or game, or watch a film in the cinema with this rating. Films under this category can contain adult themes, hard drugs, frequent strong language and limited use of very strong language, strong violence and strong sex references, and nudity without graphic detail. Sexual activity may be portrayed but without any strong detail. Sexual violence may be shown if discreet and justified by context.
Type Scripted
Original Language English
Runtime 60m
Content Score
Almost there...