Overview
Media
Fandom
Share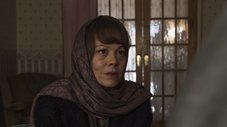 As Kevin's trial continues, the forensics seem to be proving his innocence and leading to an acquittal after 14 years. However, when the prosecution delivers a counter argument, Emma's hopes of a 'Not Guilty' verdict are dashed. With Heather and Sir Alastair keen to bring the case to a close, will Kevin accept a plea of manslaughter to secure his freedom? Meanwhile, Yusef sends word that he is in the UK and wants to meet with Emma. She travels to Birmingham to see him, tracked by Olivia Greenwood who is determined to uncover Yusef's whereabouts. With Greenwood withholding vital information that Emma needs about Tony Pullings' whereabouts and Emma refusing to disclose Yusef's hiding place, the pair are at a stalemate.
Read More
Crew
0
Directed by: No director has been added.
Written by: No writer has been added.