Overview
Media
Fandom
Share
You're only as good as your next hit.
Overview
Miles Daly works as muscle for a murderous crime ring in Nevada and attempts to change professions and become a movie producer, laundering money through a Hollywood film with the help of washed-up filmmaker Rick Moreweather.
Based on Elmore Leonard's 1990 New York Times bestselling novel.
Creator
Current Season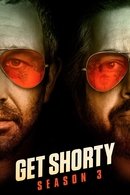 2019 | 7 Episodes
Season three sees Miles Daly, newly released from prison, in a cat and mouse game with studio head Laurence Budd, while Amara and Rick flee to the Guatemalan jungle to escape the FBI.
Content Score
Yes! Looking good!