Overview
It is the year 2030, and the stage is the capital of Japan, Chou-Tokyo. Through "Buddyfight", humans have started cultural interactions with residents from other worlds called "Affinity Dimensions". Buddyfight is a game with selected humans as the "Buddyfighter", and residents from the other world as the partner (known as "Buddy Monster"). These battles have high significance and sometimes it is even used to decide the fate of a nation, and naturally there are those who seek to use the Buddy Monsters for evil purposes.
Series Cast
We don't have any cast added to this TV Show. You can help by adding some!
Last Season
2015 | 3 Episodes
Gao Mikado has been chosen to fill in for Tasuku Ryuenji while he is away for training. One day, an illegal monster appears looking for the strongest Buddyfighter. After being defeated by Gao, he tries to warn everyone of an upcoming threat, but his memories are stolen by a mysterious person. Just then, 100 illegal monsters appear on Earth, but rather than attacking, they go away leaving everyone worried and confused. Shortly after that a "mysterious" fighter calling himself "Death Shido" starts hunting Tenbu using the Hundred Demons. To combat this threat, the Buddy Police forms the Youth divison and recurits Tetsuya and Zanya. Sometime later a Hundred Demons Hunter appears, and Tasuku returns from his training with a new power. Ikazuchi decides to hunt Tenbu himself and reveals that he's released a very dangerous monster named Yamigedo, who devours Tenbu. To reseal Yamigedo, the eight Omni Lord must be found, Drum becoming one of them after Tenbu's death.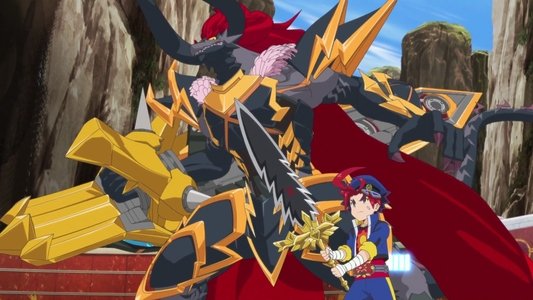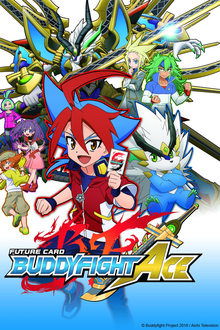 Recommendations
We don't have enough data to suggest any TV shows based on Future Card Buddyfight. You can help by rating TV shows you've seen.
Facts
Original Name フューチャーカード バディファイト
Status Returning Series
Network
Certification -
Type Scripted
Original Language Japanese
Runtime -
Keywords
No keywords have been added.
Content Score
We're so close, yet so far.