Overview
Media
Fandom
Share
2017 | 10 Episodes
Season 1 of Genius premiered on April 25, 2017.
Season one charts how Albert Einstein—an imaginative, rebellious patent clerk, who couldn't get a teaching job or a doctorate—unlocked the mysteries of the atom and the universe. Based on Walter Isaacson's critically acclaimed book "Einstein: His Life and Universe."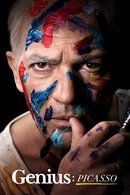 2018 | 10 Episodes
Season 2 of Genius premiered on April 24, 2018.
Season two explores how the passionate nature and relentless creative drive of Picasso—a Spanish-born painter, sculptor, poet and playwright—were inextricably linked to his personal life, which included tumultuous marriages, numerous affairs and constantly shifting political and personal alliances.
2020 | 1 Episode
Season 3 of Genius premiered on May 25, 2020.
The third season explores Aretha Franklin's musical genius and incomparable career, as well as the immeasurable impact and lasting influence she has had on music and culture around the world. Grammy Award winner Franklin was a gospel prodigy and outspoken civil rights champion; she is widely considered to be the greatest singer of the past 50 years, receiving countless honors throughout her career.