Overview
Media
Fandom
Share
Overview
This is a world of the skies, where many islands drift in the sky. A boy named Gran and a talking winged lizard named Vyrn lived in Zinkenstill, an island which yields mysteries. One day, they come across a girl named Lyria. Lyria had escaped from the Erste Empire, a military government that is trying to rule over this world using powerful military prowess. In order to escape from the Empire, Gran and Lyria head out into the vast skies, holding the letter Gran's father left behind - which said, "I will be waiting at Estalucia, Island of Stars".
Creator

Creator
Last Season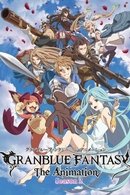 2019 | 13 Episodes
As the new captain of the Grandcypher airship, Gran will stop at nothing as they soar through the Sky Realm to find the Island of the Astrals and his father. But Gran, Vyrn (his reptilian friend), Lyria, and their new allies face countless obstacles and challenges along their journey. Bound together forever through a magical power, Gran and Lyria vow to protect each other from the evil Erste Empire.
Facts
Original Name グランブルーファンタジー The Animation
Status Ended
Networks
Type Scripted
Original Language Japanese
Content Score
Almost there...