Overview
Yuu Haruna, a loner and an avid Twitter user, has just transferred to a new school in Tokyo. He ends up befriending a unique high school girl named Fuuka Akitsuki, despite some initial conflict, and the two wind up forming a band together with their classmates. Their relationship becomes strained however when Koyuki Hinashi, Yuu's childhood friend who has become a popular idol, contacts Yuu on Twitter and attempts to rekindle long lost feelings.
Featured Crew
Creator
Last Season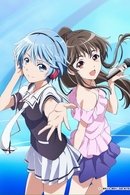 2017 | 12 Episodes
Yuu Haruna has transferred to a school in Tokyo so he can live with his sisters after their parents moved to America. Introverted and unskilled at socializing with others, Yuu's main mode of communication is Twitter. As he's scoping out his new surroundings with his eyes on his smartphone, he crashes into Fuuka Akitsuki, a girl who appeared in front of him out of nowhere. Centered on the awkward and unsocial Yuu Haruna, the mysteriously charming Fuuka Akitsuki, and Yuu's childhood friend Koyuki Hinashi, a brand new love story woven through music is about to begin. --Source: Crunchyroll
Facts
Original Name 風夏
Status Ended
Networks
Certification
Meaning

This program is specifically designed to be viewed by adults and therefore may be unsuitable for children under 17
Type Scripted
Original Language Japanese
Runtime 24m
Content Score
Yes! Looking good!