Overview
Former two-term President Richard Graves embarks on a Don Quixote-like quest to right the wrongs of his administration and reclaim his legacy 25 years after leaving the White House. His enlightenment takes place just as his wife Margaret Graves decides it's finally time for her to pursue her own political ambitions.
Featured Crew
Creator
Last Season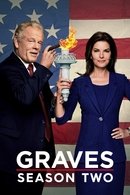 2017 | 10 Episodes
After a year of public protests against his Presidential legacy, Season 2 finds former President Richard Graves turning inward in search of the man he used to be before he was President. This journey is compounded by the arrival of his first grandchild, thanks to daughter Olivia and a new revelation about his son, Jeremy. Graves's journey coincides with wife Margaret's Senate campaign, as the former First Lady attempts to build her own political legacy at the exact moment that her husband is tearing his down; and his assistant, Isaiah Miller's search for new direction. Meanwhile, Graves's spiritual muse Samantha finds a new calling as a singer/songwriter.
Facts
Status Returning Series
Network
Certification
Meaning

This program is specifically designed to be viewed by adults and therefore may be unsuitable for children under 17
Type Scripted
Original Language English
Runtime 30m
Content Score
Yes! Looking good!