Episodes
6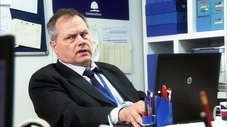 With just over a week until the vote, tensions are high in the EU referendum camps. In the Unity Unit, the PM is coming to visit and Ruby is making cheesecake, while the Brexit team are suspicious about Malgosia. Oleg reminisces about Angela Merkel, and the Trump team attempt to woo the women.
Read More
With one day left for the EU Referendum camps to sway the waverers, Unity Unit's Sara tries to manage conflict, and in the Brexit camp, Jackie wants to be eaten by eagles. Meanwhile, Brett is practising his best interpretative flamenco, and Team Putin are putting world leaders in their place.
Read More
The referendum results are in and the UK's fate has been decided, leaving Tony keen to begin the healing process. Preeya departs into government and the David Cameron fudge morphs into a sad metaphor. Aboad Trump's plane, Bea and the team are in operation damage control, while over in the Kremlin, Oleg is in operation elk control.
Read More