Overview
Media
Fandom
Share
Overview
Five unlikely teenage heroes and their flying robot lions unite to form the megapowerful Voltron and defend the universe from evil.
Last Season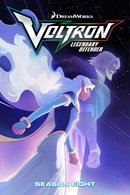 2018 | 13 Episodes
After saving the Earth, the Paladins embark to prevent Honerva from setting into motion her deadliest plan yet. It's a race against the clock as the Voltron Coalition gathers from the corners of the galaxy to defend the universe once and for all.
Content Score
Pump it up! We're close now.